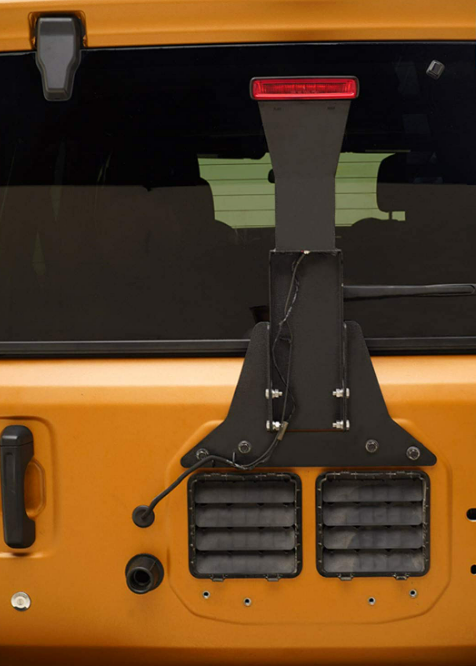 18-19 Jeep Wrangler JL Third Brake Light Bracket (51-8419)
This product is sold until inventory is no longer available and will not be reordered. This product is sold "new-as is with no warranty"

Fitment:
2018 / 2019 / 2020 /2021 Wrangler JL.

Item Included:
Third Brake Light Bracket + Mounting Hardware +Extension Wire Harness + Installation Instructions

Materials:
Steel.

Color:
Textured Black.

Installation:
Bolt-On.

Features:
1) 3rd brake light mounting bracket kit are specifically designed for easy installation to your Jeep.
2) Utilizing the factory mounting locations we eliminate the need for drilling.
3) Our LED light brackets are compatible with most third brake light .

Note:
* 3rd brake light is not included.
* Please verify that Wrangler JL 3rd brake light bracket fit your vehicle before you purchase.

About Paramount Automotive:
is the worlds leading manufacturer dedicated to pushing the boundaries of innovation and design. They don't stop there! Every product is developed with full function in mind. They take performance to the next level. We attempt at the promptest of deliveries to all our customers worldwide and try our best to help you avoid complaints by swift customer service. However, in case of anything that is not up to the specifications as we have promised, please leave us a message so that we can resolve your matter without further ado.